The Cleansing Pain of Selling Out
There's a circle of life in the builder's garage. It can begin as humbly as a body on blocks, running on nothing but a dream. Maybe, it's a lucky find. Something with low miles and a lot of potential. First, it's a vision. Then, it's a work-in-progress. This is where builders become magicians, transforming possibility into reality. Solving problems. Adding horsepower. Embarking on rare part expeditions. All this work culminates in the cruise phase. The project is never done, but it reaches a point where you can use it, enjoy it, and show it off. For some, this phase never ends. For others, it does, and they enter the final phase in the cycle: the cleansing pain of selling out. 
We spoke with four builders — Tim Semler, Brian Foody, Rob Doerr, and Keith Drake — all of whom sit at this final spot in the cycle of a personal project car's life. We asked them each: how does it feel to sell a special build to make room in your garage for what's next?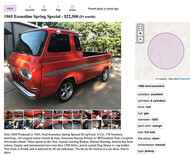 Tim Semler's 1965 Econoline Spring Special
No vehicle in Tim Semler's collection turns heads and earns smiles like this rare 1965 Econoline Spring Special. Identifiable by its signature chrome details and extra side windows, only 2000 of these trucks were made by Ford in 1965. Those extra features sealed the model's fate: the extras didn't sell well with the target audience of business owners looking for a utilitarian delivery truck. Knowing how special and rare the vehicle was, Tim performed a faithful restoration using as many original components as possible. The one major non-stock addition was a set of American Racing Wheels wrapped in BFGoodrich® Tires Radial T/A® tires.
"I always try to use BFGoodrichⓇ Tires because they make the classiest-looking tires for the cars that I like to work on. The raised white letters just look right on cars from the sixties, seventies, and eighties." – Tim Semler
Tim has been an avid rare car hunter, wrencher, and seller since the age of 15 — when he took out his first line of credit to buy a fixer-upper hot rod. His taste in cars is diverse. He's worked on old Chevy pickups, Corvettes, Roadsters, Studebakers, Volkswagens, and many more in between. His automotive interest is certainly piqued by rarity, but a vehicle's charm is really what gets him. It's this Econoline's undeniable charm that's kept it around Tim's barn — a 3000 square-foot workshop complete with a lift — for over 15 years. 
"It's so fun and unique. Whenever you drive it, people are so cheerful. Everybody smiles and gives you a thumbs up when you go by. I can put this truck in a car show next to a brand new Corvette, and everyone looks at my car first. It was hard to put up for sale. It's the first car we talk about, but the last car we drive." – Tim Semler
Brian Foody's 1969 Firebird Convertible
This Limelight Green 1969 Firebird isn't just a car to Brian Foody. It's a part of the family. Literally — the vehicle sits center stage in multiple Foody family portraits, including some lovely engagement photos taken with his wife, Vicki. 
"My friends were shocked when I listed it for sale. One joked that it 'felt like an obituary.' This car has been a huge part of my life. In 2001, I used it as a ploy to get my then-girlfriend out to a bed and breakfast in Cape May for the weekend. I told her we were taking the Firebird to a car show, but really we were out there so I could ask her to marry me." – Brian Foody
The son of a used car dealer, the daily drivers of Brian's childhood introduced him to a wide world of makes, models, and eras in automotive history. At different points in time, Brian's mom and dad drove a 1939 Oldsmobile, a 1929 Ford, and a 1965 Pontiac GTO. It's the Pontiacs that really caught Brian's eye. By adulthood, he was a fully-fledged Firebird guy. His first car was a 1984 TransAm, and he's since owned a 1985 TransAm, a 1988 Firebird Formula, a 1992 Mustang GT, and today this 1969 Firebird, which has stayed in the family for 22 years.
"It was a beautiful day to buy a convertible. I distinctly remember driving it home. It was exciting because my dad was always the one who would bring the fun cars home. Now, it was my turn to bring something home that we could enjoy and work on together. My dad painted it for me, and we got some engine work done, too. And it definitely needed new tires. I have mixed emotions about selling it. I've made a lot of great memories with this car. But now, it's someone else's turn." – Brian Foody
Rob Doerr's 1991 Land Rover D90
The first time Rob got behind the wheel of a Land Rover, he was serving in the Army during Desert Storm. It was an old model, the property of an Iraqi general. Rob was blown away by its performance in the desert. Most of the military vehicles Rob had experience with broke down frequently in the unrelenting climate. But not this Land Rover. It just kept running. He was fascinated. And he was hooked. As soon as he got home from the service, he got a Rover of his own to begin tinkering with.
"I got kind of addicted to 'em. That first truck was so cool. It outlived everything else I drove out there. I like to joke with my classier Rover friends when I say this: it's just a fancy tractor. The Land Rover is a workhorse." – Rob Doerr  
This 1991 D90 is one of many Land Rover restoration projects Rob has undertaken in the years since his first desert ride. This one, in particular, is special due to its near-perfect condition. Rob imported it from Italy during a lucky period of the pandemic when the US was one of the only countries that were accepting imports from Italy. The politics worked in Rob's favor, who was one of few people able to import this shiny red Rover. The truck began its life on an olive farm near Verona — a low-humidity climate that kept the car rust-free and pristine. 
"It's a really tough one to sell because it's definitely the cleanest imported Rover I've ever seen. And it's really fun. I wish I could keep 'em both. My next vehicle is a Defender 110. It's got the fancy stuff: air conditioning, a backup camera, a navigation system, and extra jump seats. It's more the family car version of a Land Rover. Like all my Rovers, it's also on BFGoodrich Tires." – Rob Doerr
Keith Drake's 2015 Mustang GRT
The cleansing pain of selling this custom Mustang is a very literal one. After a passionate lifetime of racing dirt bikes, cars, buggies, motorcycles, and all other kinds of high-speed "bad habits," Keith Drake had back surgery. To repair the damage he'd done, they fused L 2, 3, 4, and 5 in Keith's lower back, making lowering down to sit in the cockpit of his glorious MRT-built Mustang GRT a painful, awkward endeavor. A custom MRT build for SEMA 2015, this black and orange Mustang was modded out to be a high-performance track-day jaw-dropper. But as amazing and one-of-a-kind as this build is, Keith knows it's time to move on.
"It's just brutal because I'm still capable. I'm pretty quick behind the wheel, and I still do quite well on track days. But physically getting in and out of it — I have to squish myself down to get into the cockpit, and it just doesn't work. It's unfortunate. It's such a cool car. It's fun to drive and so unique. But I think it's time for someone else to enjoy it. – Keith Drake
With a four-cylinder engine plus EcoBoost, this Mustang puts out about as many horses as a V8, but it's also about 600 pounds lighter. That is a racecar-level performance setup — something that Keith is privileged enough to know the feel of well. It's what makes this Mustang so special. Especially when you run the right tires on it, it drives just like a race car. 
"I like BFGoodrich Tires because they're sticky and they last. The equivalents feel like they're made out of butter. They're sticky, but they have no wear. Being a Ford guy, I've had a couple of Mustangs over the years. I was used to changing tires at 5,000 miles. But this car has 9,100 miles, and look at the pictures: the tires still look pristine!" – Keith Drake
The Cycle Continues
It's a bittersweet ordeal to sell a car that you put many late nights into. When you work hard on a project car, it works on you, too. It challenges you with new problems to solve, it teaches you new skills, it shows you what can happen when you persevere. But, to get even more challenge, more skills, and more pride and joy in the work, you have to embark on more projects. You have to start the cycle over.
Special thanks to Tim, Brian, Rob, and Keith for sharing their perspectives with us for this story. Their future rides will no doubt be as head-turning as these are. Through their work in the garage and their memories on the trail, the road, and the track, these builders have each placed some of themselves into their vehicle. And who they are at their core will rumble on in these engines, regardless of who is driving.