BFGOODRICH® ALL-TERRAIN FAMILY OF TIRES
Living up to their name, our all-terrain line of tires from BFGOODRICH® are built to power through the mud and loose soil to get you use about anywhere you want to go. But it doesn't stop there. Our all-terrain tires are also built to climb with rock-crawling champion status and outstanding rock traction. Leave the tow rig at home and conquer any terrain with our tires. Shop our exceptional options today and be adventure-ready tomorrow.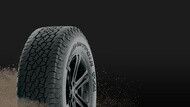 Find the right tire for you
MUD-TERRAIN T/A® KM3
BUILT THROUGH EXPERIENCE...EARNED ON THE TRAIL. IF YOU LIVE FOR THE JOURNEY AFTER THE ROAD RUNS OUT, THIS IS THE TIRE FOR YOU.
Baja Champion
CoreGard Max Technology
Krawl-TEK Compound
MUD-TERRAIN T/A® KM3 UTV
MUD-TERRAIN T/A® KM3 UTV TIRE IS "MUST-HAVE" EQUIPMENT FOR THE SERIOUS OFF-ROAD ENTHUSIAST WHEN CONDITIONS REQUIRE EXTREME TRACTION AND TOUGHNESS.
MUD-TERRAIN T/A® KM2
THE NO-LIMITS TIRE FOR SERIOUS OFF-ROAD ENTHUSIASTS.
Serious Off-Road Performance
Linear Flex Zones
ALL-TERRAIN T/A® KO2
BFGOODRICH'S TOUGHEST ALL-TERRAIN TIRE. EVER. NOW BACKED BY A 50,000 MILE WARRANTY AND 60 DAY SATISFACTION GUARANTEE.
Baja Champion
Severe Snow Rated
60-day Satisfaction Guarantee
Mileage warranty: 50,000 miles.
Find the right tire for you
2023

2022

2021

2020

2019

2018

2017

2016

2015

2014

2013

2012

2011

2010

2009

2008

2007

2006

2005

2004

2003

2002

2001

2000

1999

1998

1997

1996

1995

1994

1993

1992

1991

1990

1989

1988

1987

1986

1985

1984

1983