Josh Martin: Professor of Surfcraft
Photo credit: Elliot Ross
Growing up in southern California, surfing was in Josh Martin's family. So was building. But to build, first you must gather materials. For the Martins, this didn't mean a trip to a hardware store, it meant a trip to the desert. 
In their "ice chest on wheels," a 1970 Ford Econoline that always had a few surfboards strapped to the roof, they would rumble down into the rocky, arid valley landscapes of the Anza-Borrego Desert.  The only air conditioning available was the breeze that came through the windows. Vividly, Josh remembers the day the window crank broke on one side. It was a sweaty ride.    
In the desert, Josh would sift through sand for ancient arrowheads and try to catch lizards. Meanwhile, dad walked through the washes scouting for ironwood. These scraps of desert ironwood were bone dry, dark in color, and really hard. Josh's dad would use these scraps to make things. Tools, knitting needles for mom, and other useful things  — like a new crank for the van's window.
"When dad needed something, his first instinct was always to make one. And what he made was often better than the version at the store. When we sold that van decades later, it had plenty of scratches on it, but that wooden window crank knob was still there. In much better shape than its plastic twin."
Passing it On
Much like his father's, Josh's workshop features many little stockpiles of scrap material: Driftwood, unused resin, and anything else with the potential to be transformed into something new. (If you're in the market for a cool shifter knob, check out his Etsy page.)
Josh learned so much from his dad about making and about living. Today, he carries on his father's legacy of hand-building surfboards. To know the craft from start to finish is a rare form of expertise, one that Josh feels a calling to pass onto others near and far. Through in-person apprenticeships and online video tutorials, Josh is enabling another generation to build the tools they need to explore.
What goes into crafting a surfboard from the inside out? We sat down with the professor of surfcraft himself to find out.
It Starts with the Surfer
A custom-built surfboard is a life-long purchase. Even if it breaks, boards rarely get thrown away because of all the memories that were created on them. So, when Josh prepares to make a surfboard for someone, it's less about the product, and more about the person, and all the memories that they plan to make on their board. The process begins with a few high-level questions: 
Where do you wanna surf on this board? The geographic "home beaches" of the surfer dictate a lot about the shape of the board. "For example, if someone says that they wanna surf San Onofre or Doheny Beach, those are slow, rather slopey, and not very powerful waves. That will dictate flater rocker."
What's your dream wave? Here, Josh wants to know what kind of maneuvers the surfer likes or aspires to do. Even when they joke about never being able to reach a goal, Josh still factors it in. "I don't like to underestimate anyone's ability to adapt and overcome. I can build a board that works for their skill level, but leaves them room to progress." 
After these physical, psychological, and geographic conversations, Josh has an idea of the shape of the board. Then, he starts carving.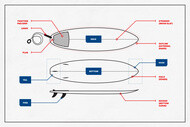 Anatomy of a Surfboard
Modern surfboards are made from a core of polyurethane or polystyrene foam. This foam is shaped, and given a waterproof coating of fiberglass and resin. Taking a surfboard from start to finish is a unique and fulfilling job for Josh — most surfboard builders who work in surf shops, like his own dad did, only work on one step of the process. It's a bit like an assembly line: one person is a shaper, and then he passes the job off to a laminator, and so on. In his workshop, Josh does it all.
Photo credit: Elliot Ross
When he performs the entire process — from shaping and glassing to sanding —  it takes Josh about a week to craft a board. Granted, plenty of that time is dedicated to heating up his shop and so that a coat of epoxy can cure.
"I also love making boards out of wood, which is something my dad taught me to do. It's a less common material to work with these days, but no one can deny how beautiful they are and the unique feel of riding one."
Photo credit: World Surf League
The Surfer-Shaper Relationship
Up until he passed away, Josh's dad built surfboards for pro-surfer Rachael Tilly. Now, Josh does. A few years into their relationship, Rachel became the youngest World Champion ever at age 17. 
Could she win another title surfing on someone else's board? Probably. But it wouldn't be as easy. Because all those years of history — and their consistent loop of improvement — would be lost if she began a relationship with a new builder. Alongside talent, it's these relationships that build champions.
"Out of the top 30 surfers in the world, there's a few who I think should have a world title by now. For example, Jordy Smith somehow hasn't made that happen. But he's also never had a consistent board builder. He's jumped from one builder to the next, and if you look at all of the world champions for the last 25 years, almost all of them have a long-term relationship with a craftsman."
Hand-Built to Explore
Alongside his love of making, Josh learned to love exploring from his dad. When he's not in his workshop shaping foam or tending his garden, Josh is in Baja waking up early in his camper to cook breakfast in his wetsuit. 
Applying his skillset as a surfboard shaper, Josh custom-built his camper on his wife's Toyota Tacoma from surfboard foam, flax cloth and bio-resin. Surfboards today are built out of foam instead of wood because foam is more readily available, quicker to shape, and it's significantly lighter. This was really important to Josh in his camper project, which started with dreams of overlanding at a special beach down in Baja. 
"There's this one beach, about 10 hours south of the border, far enough to really get away. We knew that we had to keep the truck light in order to get in and out of that area. So, that beach became our benchmark. Whatever I built, we had to be able to go camp there in it."

After a season of trials and tweaks, Josh met his beachy benchmark. He might have to lower the air pressure in his BFGoodrich® All-Terrain T/A® KO2® Tires to 15 pounds to drive up the dunes and get out of there, but the Tacoma can do it, camper and all. In it, Josh can go anywhere.
Building for Life
When you make something yourself, or even if you were there while it was made, you have a stronger connection to that thing. Maybe it's an engine you built from the ground up, or maybe it's something small — like a window crank in an old family van. 
"I find that if I make something from scratch, it's a more satisfying thing to own and use. It's silly, but I wish I still had that old window knob. It's in a junkyard somewhere now, but I had a relationship with the thing because my dad made it. It felt good in the hand. Like it belonged there all along." 

To keep up with Josh, and learn a lot about surfcraft, follow him on Instagram @MartinShapes, where he is always layering foam and epoxy with a wise voiceover about life and surfcraft.