So, You Want to Start a Car Club?
You're in Great Company
The first car club in America was a group of kooky inventors.You may know some of their names: John Lambert, Henry Ford, Charles and Frank Duryea, David Buick, Alex Winton, Louis Chevrolet, Ransom Olds. They were sharp, eccentric men who were feared by their neighbors, humored by their wives, and deeply doubted by every banker in town.  
In their hometown newspapers, these men and their dreams of "horseless carriages" were "curious" or "laughable" at best, and "dangerous to society" at worst. But through letters, visits, and mysteriously-shaped packages in the mail, this band of visionary brothers offered one another resources, guidance, and plenty of creative mechanical troubleshooting. But, more importantly, they believed in one another. They believed that, together, they were on to something! Something wild with possibility. 
And were they right. 
"I have never collected a cent in royalties from them, nor will I. Lawyers have tried to argue me into bringing suits for infringements, but it so happened we pioneers always worked together. We loaned ideas. We loaned tools. We loaned patents. If we worked out a good idea, we loaned that." – Alex Winton, founder of the Winton Motor Carriage Company, for the Saturday Evening Post
You'll Be Part of a Long-Standing Tradition
Much like the inventor generation, early adopters of the automobile had to rely on one another for guidance around getting the early machines to run well. Having knowledgeable driver-friends, or even just a neighbor who liked to tinker, was an early driver's necessity. Over time, driver networks became more formal and less regional. In 1902, nine motor clubs from different cities across the country banded together to form the American Automobile Association (Now known as AAA). As a larger community, this group was able to advocate for better driving safety, education, and infrastructure laws throughout the states. 
AAA also sanctioned the first Vanderbilt Cup and Indianapolis 500 races. (Many major racing events have a history with a club, and they really are just one big club when you think about it.) Decades later, the racing arm of AAA's efforts caused its first big political rift when a violent crash at the 24 Hours of Le Mans killed 83 people. AAA, with its historic focus on driving safety, was at a standstill. Many members had a passion for motorsports, and wanted to continue working to make them safer. Others wanted out. They reached a painful but effective resolution, and the group split up. The United States Auto Club was formed to take over racing logistics, nurture the sport, and focus on making it safe for drivers and spectators. Both clubs are still going strong today, doing what they do best.
As cars became an ubiquitous part of American life, clubs were able to turn their attention to other pursuits. In the 1950s, car culture exploded, and owners became builders. War efforts had taught many Americans relevant technical skills, and post-war prosperity nurtured a boom in new aftermarket part options — including the first tubeless tires available in the US, an innovation introduced by BFGoodrich® in 1947. 
Both technologically and aesthetically, American drivers in the '50s were inspired by the Space Race. Cars became personal rockets, and drivers had plenty of drive-in destinations to show off their shiny, custom rides. Suddenly, the garage became a place to be, whether it was a suburban dad perfecting his prized Cadillac, or a group of "greasers" modifying their hot rods to run fast and look fierce for their next race. Car clubs popped up around makes, models, motorsports, hobbies, and everything in between. They haven't stopped since.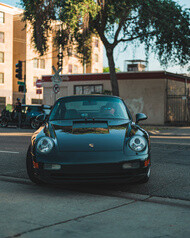 We've Gathered Some Advice for You
In today's diverse and globally-connected world, we consider any group a "car club" if they're brought together by the passion of what you can achieve behind the wheel. Some clubs meet in coffee shop parking lots to share their builds, some connect on social media, some hit the trail for hand-ons bonding, and some connect via zooms or other online forums. A few clubs dabble in all of these methods and more. 
To gather advice for whatever the future of car culture brings, we spoke with leaders from four diverse, modern-day clubs. Their differences abound: Some lead older, more established clubs; some lead newer clubs; some operate online, some in-person. They live in different places, have different backgrounds, and they cater to very different audiences. 
Lambda Car Club was founded in secret back in 1981. Today, with 32 regional chapters throughout the U.S., it's the largest car club for LGBTQ and LGBTQ-friendly auto enthusiasts in North America. 
JeepFreeks, founded by Travis Daines in 2012, is an Instagram account thousands of followers strong. It's a place for off-roading Jeep aficionados around the world to connect, learn, and collectively obsess over all things Jeep. 
Ladies Offroad Network, founded in 2016 by Charlene Bower, is an education-focused club with chapters where women can bond, get out of their comfort zone, and work on their off-roading skills together.
Capitol Car Club, newly established by Charley Phung, is an artfully curated, in-person meetup that occurs in a different location around Sacramento each week. Its goal is to dissolve the exclusivity common to the on-road car scene in California.
Diverse as they are, the leaders of these groups share a surprisingly common set of core values about car culture, stewardship, mentorship, accessibility, and respect. We asked if they had any advice for novice club founders out there. 
Here's some wisdom they had to share:  
Don't Reinvent the Wheel
Starting something new is hard work, but doing it well requires wisdom that isn't new at all. It's easy to get distracted by shiny new opportunities, but what people really respond to are tried and trusted values. And most of all: consistency. 
"There are regions in the country that do not have any car clubs and they're desperate, and then there are regions that have plenty. Don't reinvent the wheel. Do some research and find out what the need really is. See if there's already a group that is somewhat aligned with your principles. They're likely looking for help organizing. It may not be exactly what you want, but if you step up and you become part of their leadership, you can help make the club into what you think it should be." – Carl Derry, President of the Yankee Chapter of Lambda Car Club
"If you do things at a certain level, where everyone gets treated the same and everyone feels seen and has a good time, you'll create brand ambassadors for your club. Word of mouth is a thousand times better than any hashtag out there. It's simple, but it works. – Charley Phung, founder of Capitol Car Club

Think Big
Starting a club of your own is a big step. Don't make it small by selling yourself or your club's potential short. Big or small, you will have an impact on your club members, your community, and culture at large. 
"The most redeeming thing for me is that I get to influence the culture. I preserve what I want in it, and avoid what I don't like. It was important to me to keep Jeep life the way it was; the way I remembered it. I saw how everything was going online, and I wasn't going to sit and watch this thing I cared about change. So I dove in headfirst." – Travis Daines, founder of JeepFreeks

"My biggest piece of advice is think big. Ask yourself: In five years, what do I want this to look like? How many people do I want in my club? How do I want it to be represented in marketing? Start with what you want it to look like when it's big, and understand it's going to take five years of baby steps to get there. Give yourself goals every year to try and hit that. I give this advice because I did not take it myself, and it was a huge misstep." – Charlene Bower, founder of Ladies Offroad Network
Be True to Yourself
Both you and your club are defined by the values you stand by. Know what those values are, make sure you really believe in them, and put them at the forefront. 
"Realness and authenticity always win, especially online. So be true to yourself, be true to what you believe in, and be true to what you know. This means accepting your failures with honesty and embracing them as opportunities to learn. I made every single possible mistake you can make in social media, but nobody saw it because I did it all early on, I learned my lessons, and I moved on." – Travis Daines

"Figure out what your core values are, and make sure that they shine hard. For example, I chose not to have a rule book. We have what are called the seven Rs: respect, represent, reciprocate, recognize, resolve, responsible, and resilient. The Rs are what really matter, and as long as everybody sits well with them, then this group gets along great." – Charlene Bower
It's Never Just About the Cars
Often, people join the car club for the cars, but they stay in the car club for the relationships they build. As a founder, keep those relationships in mind when you plan and facilitate. Ask yourself: what do my current and potential members really want out of this, and how can I help make that happen?
"We celebrate diversity in both cars and people. With a traditional car club, it's all about the cars. You go to a traditional car show and the cars are lined up, the person who owns the car is sitting next to it, and is probably talking about it. Our club is more of an all-immersive experience. We encourage members to decorate the cars and wear costumes. Overall, it's less about the perfection of the car and much more about getting out and having a good time." – Carl Derry

"​​One problem that I see in the car environment is gatekeeping and a lack of good mentorship. I want my club to be a place where younger kids can find mentors. Not everyone has the finances to own a Porsche. And if you're hosting events that say 'If you don't have this certain car then you can't hang out with us,' who are you helping? I want to give every attendee the time of the day to talk about their passion, regardless of what kind of car they drive. In the end, it's not really about cars; it's about connection." – Charley Phung

What Are You Waiting For?
You know the history, and you've read the sage advice. Now it's time to make it happen. On behalf of all the future builders that you're sure to inspire with your work, thank you.